Sydney Photographers
We are Sydney-based photographers who capture and preserve memories you want to remember.
Who are we?
We are Rochelle & Jan - life partners. We are like salt & pepper - so different but best used together. We wanted to find something we would both enjoy doing together and we found photography.
How to choose the right photographer?
We always emphasise that first of all you have to love the work of whoever you decide to go with. Without that, you may have fun on the day with someone with a matching personality, but you will end up with photographs that you may not like because they were not your top priority before you made your decision.
Our clients choose us because they:
feel a good connection with us

feel heard and understood
We listen to you carefully, dig in the details and explain our way of work. If our visions match - GREAT.
I was initially looking for someone a little bit more local, but I just couldn't get that phone call with the photographer from Sydney out of my head and I came back to you because it felt right. - feedback from our client
We will help you
look pretty - we aim to show you in a flattering light and from the best angle. We don't promise miracles - we apply our experience.
enjoy your photographs long after your event - We think about longevity. The photos we take today will be loved many years in the future. We try to keep your photos as close to reality as possible. It means - we don't follow short-term editing trends which will soon be out of fashion. Also, the range of our premium quality print products will give you a sense of security, knowing that they will live with you their whole life and also with your kids and their kids if you treat them well.
We won't force you to do anything crazy...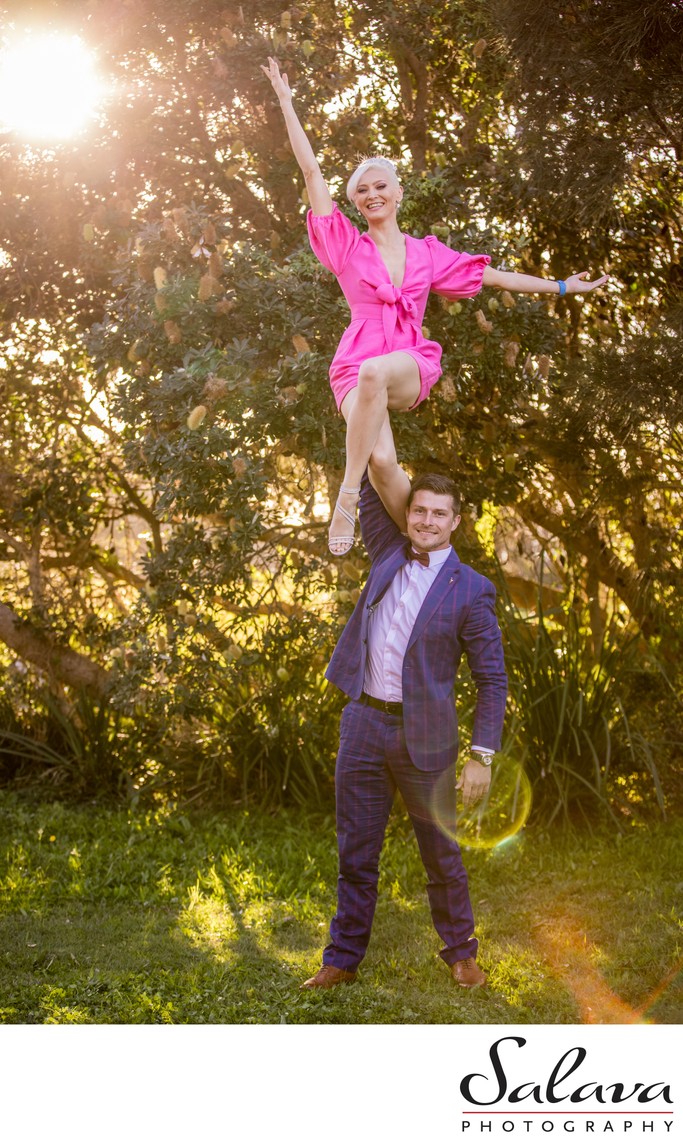 ... unless you want us to.
And even if you don't like being photographed, we'll make you feel at ease and fall in love with your pictures. It happened to our clients many times before as you can read in our reviews.
Jan and Rochelle truly are amazing and super talented. We are not used to being in front of the camera, but Jan and Rochelle made us feel at ease and some how managed to make us look like we belonged in front of the camera. Their positive, relaxed, fun energy is super contagious. which made it all the more enjoyable as we bounced off each other bringing our laidback carefree nature into the photos. The photos they created were absolutely beautiful and completely us. They captured all our emotions and memories of our special day, in a way that was natural and true to our way of being. Thank you Jan and Rochelle. x - Natalie Smith
How much?
Our clients are saying that our price is very reasonable.

We engaged Salava Photography for our recent wedding. From the start they were enthusiastic, knowledgeable and friendly. They understood our needs and their costs were very reasonable, especially for the quality and clarity of the photos. Rochelle and Jan were wonderful to work with, were non-intrusive and the photos were way beyond expectations. I would recommend them to anyone and everyone! - Chris Nelson
Salava Photography Difference
There is no shortage of photographers in Sydney competing for your attention and business. Here are a few reasons why you should consider Salava Photography for your photography needs in 2023 and beyond.
We don't hire external photographers. All work is done exclusively by Jan & Rochelle. We are a family business.
We are transparent. No hidden fees or information. (If you can't find any information you need, just ask.)
14-day cooling off period. You can change your mind within 14 days after you book us.


Albums, prints & wall art custom-designed to love
Our albums, prints & wall art are premium quality & custom-designed - made with you to fit your needs perfectly. That's why you will love them.
Photographing where you need us
We go photograph where you wish us to go. Below is a list of locations where we have photographed a wedding, portrait session or event. And this list keeps growing.
A
B
C
D
E
G
H
J
K
L
M
N
O
P
R
S
T
V
W
We love travelling
Although we live in Sydney, we also frequently travel to all points of New South Wales - and we love it.
So - if you need a photographer in Sydney, Hunter Valley, Blue Mountains, Central Coast, Kangaroo Valley or anywhere else, do not hesitate to reach out.