Salava Photography - Sydney photographers
You need a photographer and here you have two of them. Both accredited professional photographers. We are Jan & Rochelle from Sydney - we love to travel and we are happy to travel anywhere!
Photographers for weddings, portraits & events
Our aim is to become part of your journey, a family friend, who you will trust to photograph the most important occasions in your life for you.
Story of true love
This is a true story from times when Australia was on the long path to recovery from the Great Depression when this love story started. The economy was struggling, unemployment was extremely high but two people were in love and they decided to put the stamp of "officiality" on their love. They got married in a registry office.
There is almost no evidence about this humble wedding because the married couple was not in a position to hire a professional wedding photographer during those tough times.
The bride and groom decided to visit the Melbourne ZOO in the afternoon to make their humble wedding day special and that was a lucky decision. There was a somebody with a camera who was kind enough to take the one and only wedding photograph of the newly wedded husband and wife.
This black&white picture is now framed in the house of their children & grandchildren and has priceless emotional value...this picture was the first ignition spark for Rochelle's wedding photography career and until now always reminding us how important the role is that we have as photographers at our client's weddings. The bride and groom on this priceless photograph are Rochelle's grandmother and grandfather...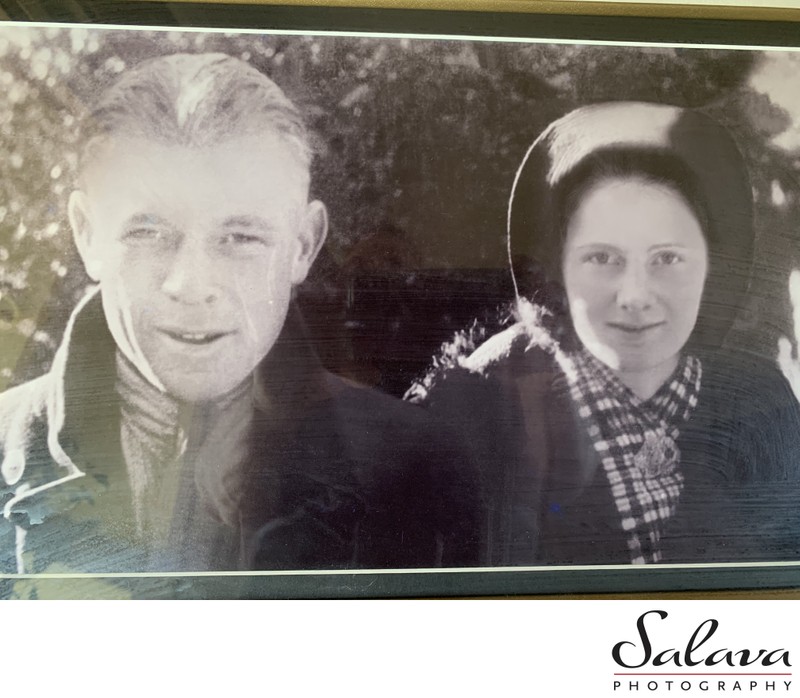 The proposal - Engagement photographers - Pre-wedding photography
The (surprise) proposal is where our long term relationship with our clients often starts. Declaration of your love to another person is a very intimate moment in your life. You want to feel safe and comfortable with your choice of engagement photographers.
Our job is to create for you the best memory of the day when your love seed was officially planted. Memories that you will always want to come back to and see the beauty and feel happiness from the photographs we captured.
If we gain your trust here, the next step is a big one...
Wedding photographers in Sydney and elsewhere
Best option to hire a wedding photographer is to hire somebody you already trust - I don't mean your best friend, I mean a photographer who you have already worked with before and whose work and personality you like.
If you don't have trust in anybody yet, it is a little bit more work to find the right fit for you.
3 steps to find out if we could be a good fit for you

Step 1

---




Do you like our wedding photography? If yes is your answer, go to step 2.

---




Step 2

---



View our wedding photography pricing. We would love to help everybody and if we are in the range of affordable wedding photographers for you, go to step 3.

---



Step 3

---



Contact us to find out if we are good fit for each other. If so, welcome on board!

---



Our goal as your wedding photographers is to make you feel as if you hired your best friend to photograph your wedding. To be clear, we don't recommend hiring your best friend as a photographer, but we understand how friends can help you feel relaxed and stress-free on your wedding day. Not everybody can be your friend, but if you choose us, we care about creating a good connection with you, because that connection will be reflected in your wedding photographs.
You don't have to remember a few years from now, who took your wedding pictures, but you will always remember, how you felt when those special wedding photographs were taken.
Yes, we have our way to photograph a wedding however we are flexible enough to incorporate what is important for you.
One of the benefits of hiring Salava Photography is that you always get both of us. With all our differences. One cheerful and bubbly and the other a silent shooter, candid wedding photographer.
Photographs which you will treasure for the rest of your life. Some of them you may want to include in your wedding album, some of them maybe transform into beautiful wall art for your home.
We live and mostly photograph weddings in Sydney and surrounding regions however no border is a limit for us.
Destination wedding photographers
We are happy to travel anywhere. There is no location we would not like to photograph, we like different places, cultures or wedding rituals. If your wedding is in Australia have a look at our standard travel fees. If you are planning to get married in a different country, get in touch and we will personalise a package for you.
Portrait photographers
After you get married, your life will change in a sequence of occasions you will want to never forget. We are here to capture those important milestones for you. Very often a maternity shoot is the first one following the wedding. With a growing family, so will grow your collection of portrait albums and the number of family portraits you will treasure until your children become adults and start families of their own.
Here is our portrait photography section and here is our portrait photography pricing.
Event photographers Sydney - Party photographers
Have a look at our event photography to see if you like our way of capturing christenings, birthday parties, anniversaries, corporate event photography or other events. Here is our event photography pricing.
If you decide to go with us or somebody else, we wish you to experience the same positive energy, which photography brings in our lives.
We feel happy, that we can work in a industry which brings people together, celebrates love and overall is enhancing positive human emotions.
If you feel that, you have found what you are looking for, we are looking forward to hearing from you soo