Getting ready wedding photos
Getting ready wedding photos
Photography coverage before your wedding ceremony starts.
Groom getting ready
We usually spend up to 1.5 hours with the groom, groomsmen and family.
How should the groom & groomsmen be prepared for the getting ready photo shoot?
By the time we arrive, guys should have on:
The vest, cufflinks and accessories can be done on camera. The family should also be dressed and ready by the time we arrive.
Groom getting ready - 1.5 Hour Coverage Example

Getting dressed
15 minutes
Detail photos with the groom
15 minutes
Parents & buttonhole
15 minutes
Groom portraits
10 minutes
Groomsmen portraits
10 minutes
Groom & groomsmen group photos
10 minutes
Groom with family
15 minutes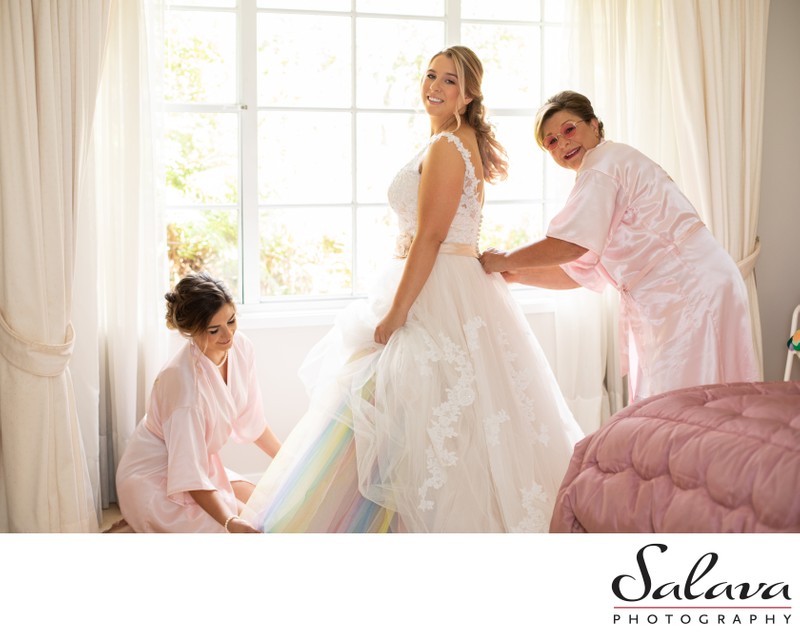 Bride getting ready
We typically spend up to 2 hours of photography time with the bride, bridesmaids and family.
How should the bride & bridesmaids be prepared for getting ready photo shoot?
By the time we arrive, girls should have:
hair & makeup completely done
robes or dress on
bride's family ready for family portraits or dress reveal (with parents, grandparents and/or bridesmaids).
Hair & makeup
We usually don't photograph hair and makeup being done. If these shots are important to you, we can document this part for you as well or perhaps take a few photos of final touch-ups however we found that photos of makeup being done are not the most effective use of the photographer's time.
Getting ready detail shots
We prefer to take getting ready detail shots with "soul " which means our detailed shots of the dress, shoes, jewellery, veil and bouquet include the bride in those photos - where possible.
Bridal Boudoir Photography
Please note, that we are family-friendly photographers and do not photograph nudity. We can however photograph the bride in her bridal lingerie, veil and garter in an elegant and respectful way. Available on request. Allow 15-30 minutes.
Bride getting ready - 2 Hour Coverage Example

Dressed in robes
15 minutes
Bridal boudoir photos
15 minutes
Getting ready
15 minutes
Bride & details
15 minutes
Father-daughter or mother/daughter dress reveal
15 minutes
Grandparents or bridesmaid dress reveal
15 minutes
Bride & bridesmaid portraits
15 minutes
Bride with family photos
15 minutes
Getting ready FAQ
Yes, you need getting ready photos if you wish to have the complete photo story of your wedding day. Skipping this part of wedding photography may look like a good saving tip financially. However, there are so many meaningful moments that can be photographed during this time of wedding preparation with your parents and bridal party. For this reason, we do not recommend skipping getting ready photos.
No. Even though we are two photographers, we use different lenses therefore we have different goals to achieve in each location. For example - while one of us is taking portraits of the bride and her family helping her with her wedding dress, the second photographer is taking detail shots of rings, shoes...etc. Each photo requires a different lens. Having two photographers with the same set of lenses would be in our opinion waste of resources. Our approach means that in the end, you will have a wider variety of images to choose from out of your getting-ready photos. Often this question is asked because people believe that dividing photographers into two different locations will save time but one photographer can only concentrate on one goal at a time which is the downside of this option. To cover the scope that two photographers can capture together will take one person double the time.
If you don't believe that it is bad luck to see your partner before the ceremony, then the first look is an opportunity for beautiful emotional photos. The wedding couple also has a rare opportunity for a few private moments before the public part of the wedding day.
Quality photography takes time. We recommend at least 1-2 hours for the girls getting ready photos and a minimum of 45 minutes to 1.5 hours for boys. There are many factors involved in scheduling time for getting ready photos - e.g. the number of people present. If you are getting ready with just your closest friend the photography part needs less time than getting ready with a big group of groomsmen or bridesmaids and family.
Getting ready wedding photos