Wedding ceremony photos
Photography coverage during your wedding ceremony.
A typical wedding ceremony takes between 30 minutes to 1 hour.
This is where it comes in handy to have two photographers documenting your wedding the most. We usually start photographing at the wedding ceremony location 15-20 minutes before the actual ceremony starts.
One of us is staying with the groom, the other photographer is waiting for the bride's arrival.
After the start of the ceremony, we capture the most expected ceremony moments from two different angles with four different lenses giving you more variety in the photos.
The most important ceremony photos usually are:
the bride walking down the aisle
wedding vows
wedding ring exchange
your first kiss
Straight after the wedding ceremony, everyone hugs and congratulates the newlyweds. This is a good opportunity to organise a large group shot and most importantly family & friends group shots with the bride & groom.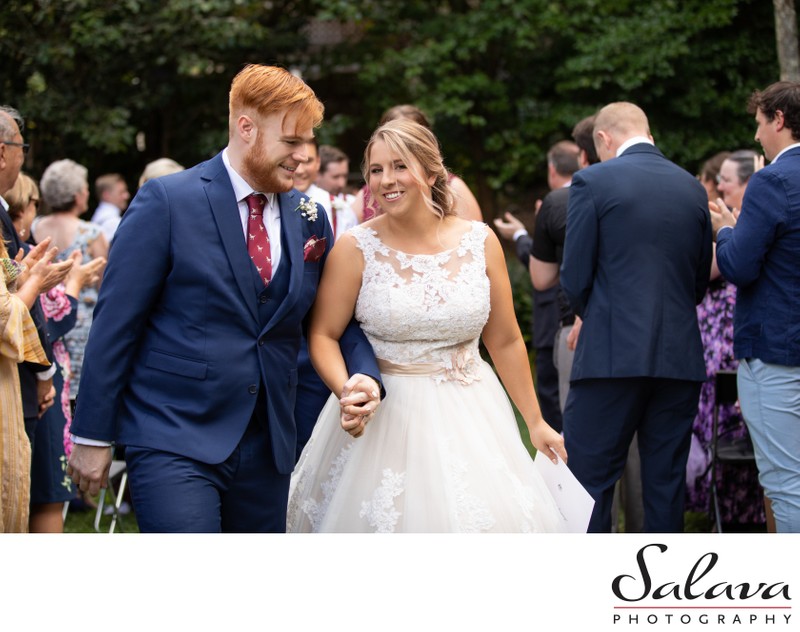 Ceremony FAQ
We ask our clients to prepare a list of the most important groups ready on paper so that we can tick them off as we go and nobody will be missed. It is a good practice to make a bossy family member or friend be your nominated coordinator for this part of the day. This person's role is to help us gather groups together and because this person knows the family members better than we would do, this help can prevent some unintentional hick-ups while gathering your guests.
We recommend allocating 1-2 minutes per group photo. Family photos are usually taken after your wedding ceremony at the same location. If the time has not been scheduled correctly for these important photos you will lose time out of your bridal shoot.
Both options have pros and cons. An outdoor ceremony is a great way to commit for life in a stunning wedding location. An indoor ceremony is a safer bet if you are expecting a thunderstorm on your wedding day or wish to have a religious indoor ceremony. Confident photographers can shoot in rain and use it to their advantage to make photos look soft and romantic. An enemy for your outdoor ceremony pictures is wind. For example, hair blowing over your face during your ceremony will interrupt the magic moment and lower the quality of the photos.
If you are planning to have an outdoor wedding ceremony it is highly recommended to think about a Plan B for wet weather. Hoping that you will have a beautiful sunny wedding day worked for many of our clients, but not for all of them. If you are worried about rain during your bridal shoot - do not worry. There is always a way how to make your bridal shoot images beautiful. Rain will make your bridal shoot different. But the difference can be positive. Of course, you can have a Plan B for your bridal shoot too. We are confident to photograph in rainy conditions if that's what you are asking. If you are brave to stay outside on a rainy day we can use umbrellas, trees, shelters...etc. Just bear in mind, that we do not provide props for wet weather photoshoots - prepare yourself for the option you prefer - we are ready either way.